"I keep my pepper spray in one of the cup holders at all times. It makes me feel safe, because I can grab it in seconds if I need to. I can keep my family safe and that's worth everything." -Emily G.
✔︎ Children Safety — Made of children safe material (polyester) that is healthy to take home and messes are easy to clean. Belongings are easy to get to protect your kids.
✔︎ Time Saver — An outdoor adventure shouldn't be stressful and should instead be a memory you and your child can cherish together. Our Organizer's purpose is to remove everyday problems and shift that time back to our kids.
✔︎ Extremely Durable — Made for everyday life and can take a beating. It has been thrown across the room, smashed with hammers and bars, and has passed the egg drop test with the egg fully intact.
✔︎ Water & Fire Resistant — It's everyday waterproof, which means water will not ruin the organizer and easy to clean. The organizer is also treated to be nonflammable.
✔︎ Lightweight — It's easy to carry and can hold up to 10 lbs / 4.5 kg without having that saggy bag appearance.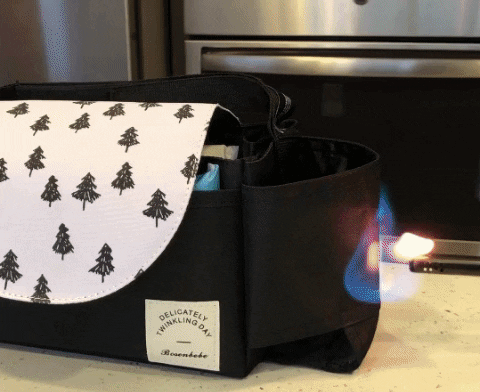 There are many struggles that come with parenting and the data shows you're not alone. One Step in the right direction is organizing your belongings. We made this Organizer to get you back to enjoying parenthood by making the journey and everyday needs easier. Anything within our Organizer can be accessed within seconds.
Parental Statistics
| | |
| --- | --- |
| Parenting as biggest challenge | 73% |
| Parents that feel extreme fatigue | 64% |
| Parents that feel guilty about not being able to do everything well | 41% |
| Parenting as greatest joy | 91% |
We know your time matters and that's why we designed our EasyClip Organizer with instant access and safety in mind. That's why our Organizer doesn't include any zippers because no one wants to struggle getting the things you need when you need them the most. We've provided:
✔︎ 2 inside pockets
✔︎ 2 outside pockets
✔︎ 2 cup holders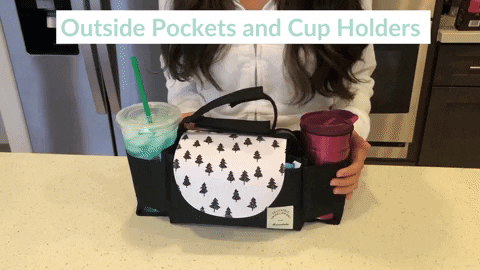 The EasyClip Organizer is universally compatible with almost all stroller models because of how easily the Velcro straps adjust and connect to your stroller. The farthest the straps reach across a stroller is 22 in / 55.9 cm. Keeping the Organizer waist level on your stroller is recommended for the easiest retrieval.
The Organizer is convertible:
✔︎ Attached to Stroller (hands free) OR
✔︎ Compact Bag with handle ALSO
✔︎ Comes with a detachable divider
The EasyClip Organizer comes with 4 unique variants for your stylish needs. Look below to see all the things it can hold!
What our customers have said about our EasyClip Organizer:
"I bought this because I've spilled my coffee when my kid wanted to get out of the stroller. I had to try to get my hands back on the stroller so it wouldn't tip over. Haven't had any incidents like that since I bought this organizer. Thank God 😂" - Leslie T. 
"I love that this organizer acts as a second purse for my belongings. I don't like to keep my baby's things in my purse and now I can keep everything separate with EasyClip. No more mess." - Jade O.
"I'm a single mom and this is one of the greatest investments of my life. I don't need a man to carry all my stuff because this thing holds all of it for me. Makes my life so much easier when I'm out with my son." - Haley S.
"I've always felt my stroller didn't have enough storage. This organizer lets me keep whats important closer to me than to just put them at the bottom of the stroller. No more struggles digging through my stroller to get what my child wants." - Clarissa S.
Check out the beautiful pictures our customers have provided below and in our reviews.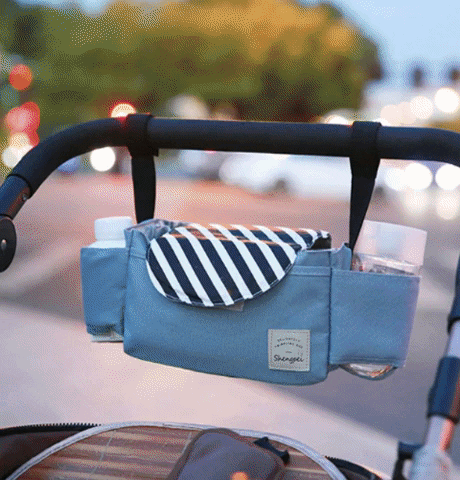 Frequently Asked Questions:
Question: Will this tip over my stroller?
✔︎ No, it is made to be a lightweight item that has the potential to store a lot of things at once.  Your child's safety is our utmost concern and the stroller will not tip over by itself. Please be mindful of how many things you will be putting into this device because just like everything else too much weight on one side will tip over any stroller. Balancing the weight on your stroller should always be your first concern before putting your child in it.
Question: Why No Zippers?
✔︎ The reason why we did not use zippers when making this Organizer is because zippers can be difficult and slow you down when you are trying to access the contents within the bag. Not to mention they can also fail and break over a period of time.  We found that Velcro contains your belongings just as well and parents have a much easier time getting to their belongings. That is also why we include pockets on the outside of our Organizer. The question "Will my items fall out?" below answers how we know your items will be secured. 
Question: Can it fit on umbrella stroller handles?
✔︎ Yes it can accommodate most umbrella stroller handles. We have measured the max distance the EasyClip Organizer can reach across the handles which is 22 in. / 55.9 cm. If in an event the stroller handles are too wide the EasyClip Organizer can easily be attached to a single handle and is sturdy enough to not fall off, but using the cup holders this way is not advised because it will likely spill your drink. 
Question: Will my items fall out?
✔︎ No, they will not fall out if the Velcro is correctly closed. We have tested this and thrown our Organizer across the room with an egg and other items in the main compartment. When picking up the Organizer we simply undid the Velcro and our belongings were all in place and the egg was still intact. (This is not advised if you have fragile belongings in the main compartment because although the egg and other items were unharmed and contained within the organizer, it is not worth the risk of endangering your belongings. This was a test for potential accidents, but please use the organizer properly to avoid making a mess.)
Question: Do I need to buy hooks? 
✔︎ No, the EasyClip Organizer already comes with 2 heavy duty Velcro straps that will keep the Organizer stable on your stroller. No additional purchases are necessary in order for our Organizer to function in the way we intended it to. 
Question: Can I fold up my stroller with the EasyClip™ Organizer still attached?
✔︎ It depends on how the stroller collapses, but in most cases our Organizer is flexible and can be folded with the stroller. So yes, but please remove beverages and bulky items from the organizer to avoid a mess. The Organizer can easily be removed by releasing the Velcro straps. The dimensions are 30 x 13 x 19 cm / 12 x 5 x 7.5 in
Question: How long are shipping times?
✔︎ We try to process your orders as fast as possible. Due to high demand and to ensure that we can provide the premium quality we strive for, orders may take 8-20 days to arrive. We believe it's worth it because we go through an extreme vetting process to guarantee that we only ship out the highest quality we can offer. If a package arrives damaged contact our email strollersolutionsteam@gmail.com so we can sort out a return or send you another organizer, free of charge.